SubmitEaze is one of the best directory submitters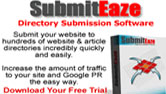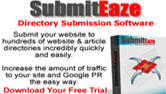 SubmitEaze is one of the best directory submitters on the market today(maybe the best one) that will help you to submit your website to over 1000 article directories.Below, you can find pros and cons SubmitEaze as a result of my research about directory submitters and differences between them.
First, let's start with pros of SubmitEaze directory submitter software.
Frequent Update: SubmitEaze gets updated at least once in 2 weeks. While using this software, you will not see any "dead" directories. And also, information about the directories is very accurate, including pagerank of the directories and other given details. The author of SubmitEaze removes dead directories and adds new directories to the list frequently. I tried other directory submitters before; the number of dead directories in their list is really high and as you be able to submit your website to 2 out of 20 directories you feel frustrated. But with SubmitEaze, since the software gets updated frequently you won't find any dead directories.
Number of Directories: Number of the directories in SubmitEaze is over 1000. This is really great number, and with the help of SubmitEaze submission process becomes very fast.
Variation of The Anchor Text: As you may know, when you link to a website using only 1 keyword, then your links will be considered as spam links, and your efforts will be considered as search engine spamming – Remember, search engines don't like search engine optimization, they want "Natural" links.
Demo and Tutorials Available for Free: You can now download SubmitEaze trial version and see the demonstration videos for FREE, for downloading the trial version you will be asked for your name and email.
Semi-Automatic: With automatic tools, you can't submit to more than 100 directories – directory owners will prevent this from happening ASAP. The name Semi-Automatic submission may sound like slow process but it is not. SubmitEaze is a great time saver and every directory will not take more than 20 seconds to submit. Also, this way you seethe submission yourself. You can read testimonials and comments about SubmitEaze from forum users (DP and WF forums) by clicking the link below.
Categorized Directories: Some directories are paid, some require reciprocal links, and some accept websites only from certain niches, etc. all of those directories are categorized in SubmitEaze. Currently, there are about 15 types of niche directories in SubmitEaze.
Cons:
Semi-Automatic: For some people it is pro, for some it is con. Personally, for me semi-automatic submission is PRO, because you see the process for every single website with your own eyes, but there are so many people that want it to be 100% automatic. Well, I have tried a lot of automatic tools, unfortunately I got error for at least 35% of the websites… if you were the owner of a website directory, I am sure you wouldn't want your website get spammed by automatic tools and you would do anything to prevent marketers that doesn't put value on a link from your directory to spam your website!
Pagerank of Sub-Categories: While the pagerank of the main website directory page may be 6 or 8 (out of 10), pagerank of sub categories aren't that high, if the pagerank of the homepage is 4, then the pagerank of the sub category will be 2 or 3, or maybe 1. This way, you backlink will be from PR2 or PR3 page not PR4 page.
https://www.naveenkapur.com/wp-content/uploads/2018/11/SubmitEaze.jpg
94
166
Naveen Kapur
https://www.naveenkapur.com/wp-content/uploads/2019/11/logo-300x107.png
Naveen Kapur
2009-09-09 16:50:33
2020-03-28 08:04:06
SubmitEaze is one of the best directory submitters