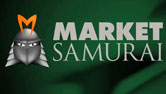 One of the hardest parts to running a blog is getting people to your blog; aside from making it interesting, and of value to your readers. This is why keyword research should never be overlooked when creating a blog.  However, keyword research can take a long time to complete, and isn't really a fun and exciting part to operating a blog.
I want to introduce Market Samurai to you, as I have been using it for a couple months with excellent results.
Market Samurai has a number of valuable tools such as, site placement tracking (rank tracker), seo competition, monetization, and even allows you to find content, in which you can rewrite in your own words or get backlinks from.  Really an affiliate marketers, or professional bloggers dream.  However, in this article I want to talk about how Market Samurai makes it easy for me to find keywords that people search for, and more importantly will gauge how easy they are to rank for.
Market Samurai is a worthwhile investment
I know if you are going to invest your time and effort into a website or blog you want to make sure you are not wasting your time. Market Samurai really does take the guesswork out of the equation, though. I am not really the kind of person that goes out and buys all kinds of software, but rather invest my money in link building, content creation, etc. but this application was really worth my money.

A lot of people know how to do keyword research and really know how valuable it is to making money online. However, if you are like most people, you either procrastinate doing your research or just outsource other people to do it for you.  Believe me I did both of those the past couple years and I am very fortunate that I discovered Market Samurai when I did.  For instance, I am very good at SEO, but keyword research is just way to time consuming for me, that was until I discovered Market Samurai (which Tom Sinfield who runs Standoutblogger.com) showed me one day.
Save Time Researching Keywords
Wow, this saved me a lot of time!  And it is painfully easy to use as well.  All you need to do for the keyword research tool is type in keywords you want to rank for, or even make them broad and MS will suggest some keywords for you, as well.  You can filter them the way you want, too.  For instance, if you want keywords that have 100 hits a day you can easily specify that.  You can sort your results by a variety of different categories which include total searches (broad, exact, and phrase), SEO traffic, which is the number of estimated hits you will receive at the number one spot on Google, Google trends, Adwords traffic (a variety of different ways of analyzing it), I don't use Adwords but if you are PPC guru can help you a lot, optimized keyword results, and how many sites use the keywords in their title.  There are a plethora of ways to sort your data, as well.
For me, I do a lot of SEO work for other people so I can easily save my settings for each site.  Saves you hours of time!  Not to mention I use the "rank tracker" to see how well I am doing, and I am in fact going up in the search engines.  I know of a lot of people that use Wordtracker Professional and I believe that software cost several hundred dollars.
Another great feature I love about Market Samurai is you can find other relevant Squidoo lens, Wiki's, Hubs, etc. and leave quality comments, and either build up your social properties or the website or blog you are working on.  Also, it really helps a lot with content creation as you can type in some keywords and get tons of articles from various sources to read.  Just pick out interesting content and have it rewritten in your own words, and you can start making a massive amount of income from this tool on MS.
Really, there is no one way to run Market Samurai; you just have to use it the way you want.  If you want to go for insanely hard keywords then MS will tell you, but if you are like me you don't want to have to put so much effort forth in order to rank in Google.  Its kind of similar to Micro Niche Finder, but has a lot more features.
In Conclusion
What really makes this great is it does all your research for you.  You can go take a shower, go to the bar, eat dinner, or whatever and in a couple minutes your research will be done for you.  You can then export it to an Excel spreadsheet and decide which keywords you would like to target and eventually go for in Google.  Believe me all that research could take you hours to do, however can be done in a matter of minutes with Market Samurai.
What I typically do is go for keywords that get 1,000 searches a month and have under 5,000 in title keywords. Those should be pretty easy to rank for and a handful of authority backlinks to a property optimized page, will get me ranked in no time at all.  Bare in mind, I do go for keywords that are harder than that, but I have a piece of mind because I know I am going to have to work harder in order to get ranked for those keywords in the SERPS.
Try Market Samurai Today!
https://www.naveenkapur.com/wp-content/uploads/2018/11/marketsamurai.jpg
94
166
Naveen Kapur
https://www.naveenkapur.com/wp-content/uploads/2019/11/logo-300x107.png
Naveen Kapur
2009-09-09 17:02:49
2020-03-28 08:04:06
Market Samurai: Today, and The Future