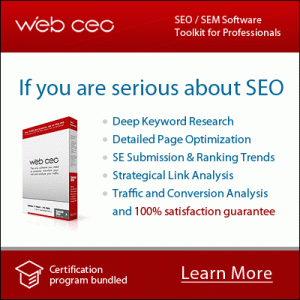 Web CEO is a software package of ten main tools that help you to promote your site in search engines, analyze your visitors, and easily maintain your Website(s) at optimal quality.
Want to cut to the chase?If you're a Website owner or a web developer, stop reading this review of Web CEO right now
. Head over to www.webceo.com and buy it. Don't say I don't give you good advice!
If you're still not sure, read on and I'll give you the lowdown on a piece of software that, if I was smart enough, I'd have purchased years ago — and saved myself thousands of dollars and thousands of hours.
So, you've decided to read on? Okay, I'll start at the start.
Features
Web CEO is packed with features, including:
Keyword research tool: find the right keywords for your site.
Search engine optimization tool: compare your Website optimization readiness against the top ranked sites.
Simple editor: access, view and edit the various parts of your HTML page.
Search engine submission tool: automatically (or manually) submit your site to the search engines. Contains notes on each individual search engine with space for your own specific comments.
Check your rankings: a huge timesaver for search engine specialists and Website owners who need relevant data.
Link checker: quickly and easily check who's linking to you, who's linked to your competitors, and much more.
Website quality assurance: comprehensive review of all site components with detailed analytical reports. Quickly find and repair any damaged files or pages.
FTP uploader: quickly upload files without leaving the software.
Always know the status of your site: real time monitoring keeps tabs on your site even when you're not there (and you can be emailed or telephoned the results).
Comprehensive site reports: includes hundreds of detailed reports to enable you to make the right decision every time!
Web CEO comes in a few flavours, each at a different price point:
Web CEO Free: FREE
Web CEO Startup: $19
Web CEO SmallBiz: $295
Web CEO Professional: $495
But wait! That's not all!
Web CEO charges an ongoing fee for optional components of the software. This is and will continue to be the secret (aside from the brilliant software!) to their success.
For example, HitLens (the traffic analysis component) is priced at 59 cents per 1,000 page views for "Power Reporting" or 79 cents per 1,000 page views for "eCommerce Reporting".
Site monitoring costs between $0 and 41.80 per day.
Access to the downloadable Knowledge Base updates costs a little more.
Now, many of us balk at ongoing fees like this. But, be realistic: the provision of the analysis and monitoring services, and keeping the knowledge fresh, takes time, money and significant resources. The guys at Web CEO aren't about to compromise the success of the sites that use their product by scrimping to save the customer a few cents here and there.
You want the best quality software with ongoing quality service? Of course there needs to be an ongoing fee. To ask for anything less would compromise the quality of the ongoing service, and very quickly diminish the value of the software to customers like you and I.
It's a great strategy that's of great benefit to the customer.
…Sound Like Anyone You Know?
Once upon a time there was a handsome man. Let's call him Brendon. Brendon was handsome and charming… in equal parts! Brendon owned a few ecommerce businesses, and he also ran a busy little Web development firm that did quite a lot of search engine work.
Brendon was going along very nicely and all was good in his world.
"I'm so very clever, I surprise even my handsome self," he would often be heard to say. "Here I am, making quite a bit of money from my Websites," he said gaily one day.
"Sure, it takes a while to manually check everything I need to check, and I'm not 100% sure of my search engine strategies, and I certainly won't ever know what my competitors are doing — that would be far too difficult to figure out. And, although I've spent thousands of hours and dollars on my site management systems, I'm quite, quite sure no-one would have as much information on their site as I do! I'm so very clever… Let's go find a mirror for me to look into…." And off he skipped.
I confess: I'm "Brendon". I'm not very handsome. And I'm certainly not charming. But most of all, I'm not smart. What I've seen Web CEO achieve means I'm pretty much a moron.
If I was smart, I'd have purchased Web CEO as soon as I laid eyes on it. Why? Well, it's time to get down to the nitty gritty and find out.
https://www.naveenkapur.com/wp-content/uploads/2018/11/webceo.gif
400
400
Naveen Kapur
https://www.naveenkapur.com/wp-content/uploads/2019/11/logo-300x107.png
Naveen Kapur
2008-04-15 23:05:38
2020-03-28 08:04:45
Web Ceo